Back To Menu
Breakfast Sandwich*
Eggs, bacon tomato, red onion, avocado, Jack cheese on grilled sourdough. *No bread side
(Select 1) Egg Choice:
Egg Whites
+$2
Egg Beaters
+$2
Scrambled
Over Easy
Over Medium
Sunny UP
Poached
(Select 1) Breakfast Side:
Fruit
+$3
Hash Browns
Country Style Potatoes
Cottage Cheese
Sliced Tomatoes
Have you tried this item? Pop it!
Help other diners know what to expect by sharing your experience.
14 people have popped this item
Photo Gallery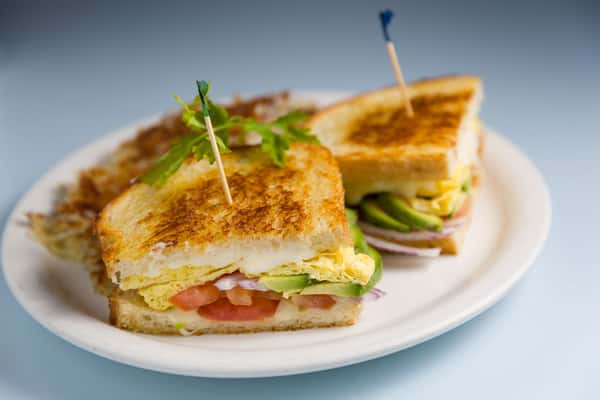 Back To Menu
Breakfast Sandwich*
Eggs, bacon tomato, red onion, avocado, Jack cheese on grilled sourdough. *No bread side
(Select 1) Egg Choice:
Egg Whites
+$2
Egg Beaters
+$2
Scrambled
Over Easy
Over Medium
Sunny UP
Poached
(Select 1) Breakfast Side:
Fruit
+$3
Hash Browns
Country Style Potatoes
Cottage Cheese
Sliced Tomatoes
Back To Menu